LOOK AT THE STAIRS!!!
Read the first part
As soon as I arrived in Seoul, we went to Seoul Station to take a Train to Busan. For real!! lmao no there was no zombies but it was fun thrilling enough to imagine that I was in that movie because everything looks exactly as in the movie. Well, except, there were no zombies. For every one of you who is anti-drama or Korean things, you really have to watch this movie!!! This is truly exceptional.
👵Funny Ahjummas in Seoul Station
We arrived at 11 pm although our train was scheduled to depart from Seoul at 12:30 pm and arrive in Busan at 15:07 pm. We still have more than an hour and a half left before departure, therefore, me and Mbak Lifi decided to go up again to buy some foods or just walking around. There were two ahjummas who were already on the lift as we shouted, "저기요! 잠깐만~~~요. 감사합니다" and held the door for us. "한국말 잘해요! ㅋㅋㅋㅋ" it was pretty awkward, so I said "아니에요. 조금 만 할 수 있습니다 ㅎㅎ". As always. They were like :o :o :o (?) Well as you know, at first, I thought everyone will stare at me because I wear hijab, or worse, won't talk to me lmao I was too anxious. It was veryyyy rare, even during my 6 days trip, I think I am the only one who wears hijab. But turned out it wasn't that bad. So, we continued our small talks,
"한국어를 얼마나 배웠어요?" how long have you learned korean?
"일년 동안 배우고 있어요..." i have learned korean for a year
"와 잘해! ㅋㅋ 어디로 갈 거예요??" wow you're good! kk where are you going?
"부산~ 네.." busan... yeah
"그런가요? 이제 시간 맞죠? 왜 올라와요??" ah really? isn't it now (to departure)? why do you go up?
"아니요, 우리 열차는 오후 12시 30 분에 있어요. 배고프니까 올라와요... ㅋㅋ" no, our train is at 12:30 pm. we are hungry so...
"지금 것 같은데?" i think it's now??
"아니에요.. 다음 열차" ah~ no... the next train
But they insisted that I take the first train and kind of argued a bit. They thought our train was about to depart soon and they hurried us to go down again lmao. Actually, there were two trains at 11 and 12.30 but they..idk there was just some miscommunication. I can't describe the moment perfectly, but it was all laughter. They were so funny. They even threw up some jokes (that i don't understand) so I was laughing in awkwardness. But it was nice because they were very kind and even guide us (a bit. though confusing). And we hunt foodzzzz. My first order in Korean was a spicy squid rice something from 공씨네 주먹밥 (kong's riceball) and 바나나우유! Well, the banana milk tastes similar with Indomilk banana if you're curious.
💘Korean BBQ in 오륙도 Oryukdo and Gwangan Bridge 광안대교
다 먹었어!!
Our hotel located near the Busan Station, we just need to walk for 3 minutes. The staffs couldn't speak English even though it's near the station (I expect they must have seen a lot of tourists), but it was very bad :< We booked two rooms, the other one has been checked-in online while the other one hasn't so we have to wait until then. We took a shower and prepare ourselves to be picked up by our Korean friends. Busan is very famous for its beaches, so, they brought us to a really fancy restaurant near the beach called 오륙도 가원. I was having a deja vu on my way to the restaurant, the roads seemed similar and I felt like I've been there before. I didn't take good pictures (source: google) but the view was mesmerizing mashaallah and there is nothing to compare with the pictures! The weather was okay, it was windy but not so hot nor cold. It was perfect. The waitress who serves our table was fun. He told us that we were the first Indonesian guest, and as expected, was pretty curious too because we wear hijab. They even talked about eid and said he watched it on the tv that it's an Islamic day so on and so on. We were having fun and talked about a lot of things that night.
information board at the hotel! cuteeee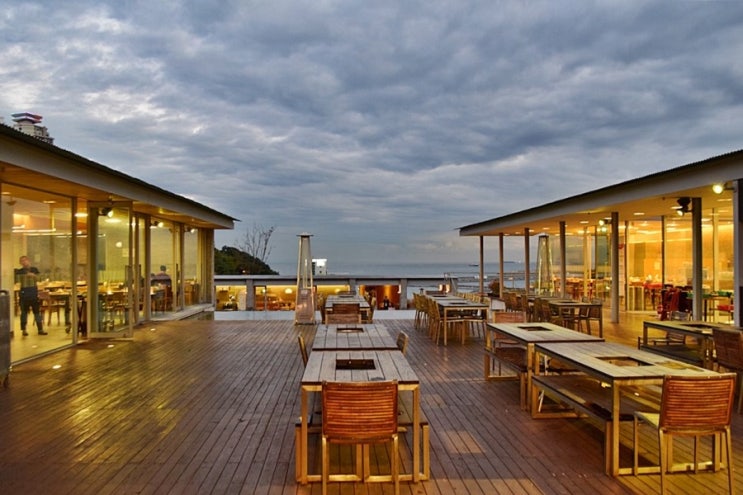 After that, they brought us to Gwangan Bridge 광안대교 which was amazing at night. I don't know but Busan was very calm and there were not so many people. It was very clean and just perfect. Well, if only they have more mosques and halal restaurants... I would love to live there for the rest of my life. I like Busan better than Seoul to be honest, Seoul is very busy and people walked very fast like they have no time to relax. But, Busan is calmer and I just love it.
🍢🍣Went to Gamcheon Village and tried street-food!
The next day, we had a breakfast in the hotel. I asked the ahjumma to make sure that it doesn't contain pork, "이거 뭐예요?" "죽! 괜찮아. 고기 없어요!" "아~ 그래요.. 고맙습니다.". Ohhh~ thanks God. I really liked the dried lavers, the porridge, everything T_T It tastes different with the Korean foods I used to have in Indonesia. huhu I really love it. They were very welcoming, I was touched (?) :(
After finishing our breakfast, our Korean friends picked us up again and brought us to Gamcheon Cultural Village
감천문화마을
. It was also their first time in Busan because they actually lived in Seoul and Jeju. Gamcheon is my favorite place!!! Very cute :< I can't. I bought my first hotteok
호떡
in Gamcheon and this issss my favorite street food snack in Korea :(((( I also tried a cheese rice cake (melteddddd) and sikhye (non-alcoholic korean rice beverages.
mirip tape tapi enggak asem, enak. aku gak suka tape wkwkw.
) Pokoknya kalau kalian ke Busan wajib banget ke Gamcheon!! Lucu banget. Terus ada kayak tempat diy dan art stores gituuu, and evennn flower tea shops!!
gamcheon !!
HOTTEOOKK!!!! ISINYA KACANG :3


🐾Shopping streets like Myeongdong in Busan and Coffee in Songdo Beach
And theeeen we went shopping!!! I love Korean skincare products and tbh it's so hard to restrain because everything seems to have SALES in big red fonts (though they always had). Masks. You can get 20 masks for 10.000 won and etc etc. I was being called a few times by strangers, saying "안녕하세요~ 아이고 예쁘다." kkk lmao don't do that to me, my head might grow bigger. I also met a veryyy cute and kind sales in Innisfree. She approached me and we kinda have talks about skincare products, she also recommended me a bija cica balm since I told her that I have a very sensitive and dry skin. It gets red easily:( She was very funny we were laughing because lmao language barrierssssss zzz.
Oh! We also had a nagji 낙지 (octopus) not the living octopus 산낙지 (I should try it next time!). It was very very very very very veryyy delicious:( Our Korean friends kept saying "와... 한국 음식 진짜 잘 먹네~" "김치도 잘 먹었어" "와.. 그렇게 좋아하지" I was like 당연하지!!!! 맛있으니까 죽겠다 ㅋㅋㅋ The octopus wassss omgggg. Idk. I wasn't exaggerating but it tastes different. Even the kimchi and dried laver tastes different. lol.
Then we continued our journey, I don't remember the place but it was a cafe near Songdo Beach and we just talked until 10 pm. We had cakes, desserts, coffee, and ice creams. We had a really great time! The night view in Busan was beautiful and exotic. It was an unforgettable and memorable experience for three days there. It was our last night in Busan as we are going to Seoul the next day, we bid goodbyes to each other.
Busan was amazing and beautiful, and I will sure come back again to visit Busan someday.
Continue to Part 3...