By the time we ate it, we just stare at each other in silence.... "omg." "omg." "wait. OMG hoW COME THIS IS SO GOOD" "like sushi!!!!" "Omg. What is this taste." "I don't know but it's just amazing"
My summer vacation started on 20th July 2018, I spent a few days traveling around Busan and hanging out with my friends. On Wednesday, 26th July 2018, my cousin and aunt happened to visit Korea so I picked them up in Busan Station and headed to the hotel near Jagalchi Market around 2 p.m. For your information, it was
sooo hot
in Korea. Waaaay hotter than in Indonesia I swear!! It's so humid and the heat-wave is unbelievable, when you're going outside the room it's like a blazing fire splashed on your face and you will sweat in no time. I thought Indonesia is hot enough, hotter than any other countries, turns out Korea is way hotter during summer.
~ BUSAN ~
Then we were roaming around BIFF Square Nampo-dong in front of Jagalchi Market and I was researching for seafood and halal foods near the place. Just went there once for eating Indonesian bakso a few weeks ago so I didn't really know the place, but it is quite a famous place. So I found a restaurant with good reviews in Naver, thousands of reviews saying that it's worth to visit the place! The place called
Busan Huet Jib 부산횟집
, Jagalchi, and they served seafood including octopus, shrimp, seafood stew, and some weird kinds of seafood that I can't even look at it. Hahahaha.
My cousin was yearning for
sannakji
산낙지
, it's the famous lived octopus dish where you can find the octopus still moving around in the plate.
Well, it's dead. Don't worry it's clean and dead, the head is already removed too, just the legs left, but they have this motion something I don't know. After a few minutes, they stopped moving.
For some people, it might be gross, but it was okay, just like sushi actually. It tastes like... an octopus. They put olive oil and some small cubed veggies to make it.. presentable? However it was quite expensive, it costs around 15.000 won for a small plate (one baby octopus!). We also ordered
two cheese fried big shrimp
, haha I don't know the name, but it was deliciouussss. Love it so much! Oh and seafood stew. It was nice as well. After that, we bought Hotteok and eat some street foods near the place.
Hotteok 호떡
is a hand-sized Korean pancake filled with cinnamon, brown sugar, honey, and the best part... chopped variety of nuts!!
The next day, we ate lunch in my favorite restaurant near Suan Station to eat
Cukkumi 주꾸미
. It is a fried octopus with some sauces I don't know what but it tastes like Satay alias Sate, you name it. It comes with a light cheese pizza where you can dip in the sauce. Tastes amazing!!! They said they liked it so much and by far the best Korean dish that they like.
A few moments later, my cousin asked me
"oh they served ganjang gejang 간장게장, have you ever tried it?" "What? What is that?" "It's a blue crab marinated in soy sauce!!! You didn't know?" "No, never heard of it." "Shall we order?? I really want to try it!" "Sure!"
, then we ordered one for 12.000 won. It was.. weird. By the time we ate it, we just stare at each other in silence....
"omg." "omg." "OMG THIS IS SO GOOD" "like sushi!!!!" "Omg. What is this taste." "I don't know but it's just amazing."
.
So our favorite Korean dish now: 1. Ganjang gejang 간장 게장 and 2. Cukkumi 주꾸미.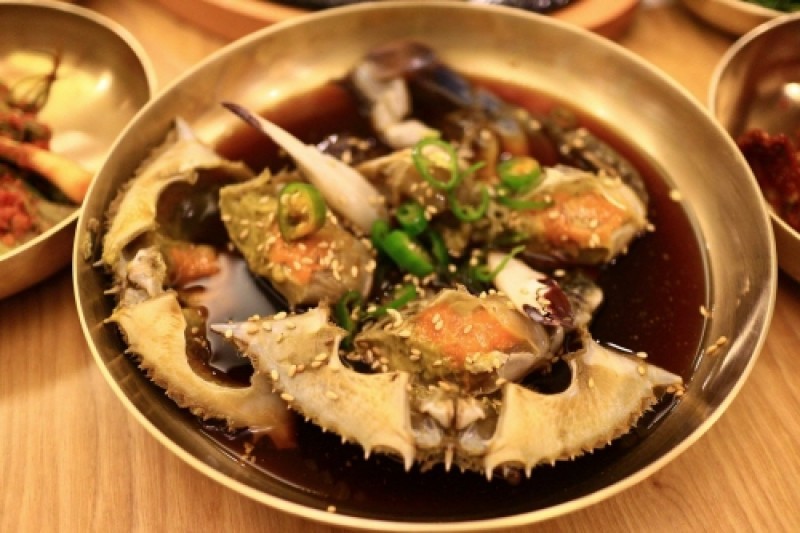 ganjang gejang
After that, we went to Gamcheon Cultural Village 감천문화마을. I went there before during my vacation in 2017, but it was cold that we can enjoy walking around for a few hours unlike this time, we barely stayed for an hour because it was soooo hot. After that we continue our journey to Seomyeon, it is a shopping place like Myeongdong in Seoul, to visit Potid Cafe. It is a Harry Potter themed cafe which served I don't know maybe coffees and cookies. We just went in and snapped a few pictures but didn't eat inside because it was crowded. The waiting list reached 10+ and we just left.


potid cafe seomyeon
gwangalli beach
We came back to the Hotel for Asr' prayer and took a quick bath because we were all sweating. Just 3 hours outside. Then we went to Gwangalli beach, just to enjoy the time. Oh and by the way, it was a supermoon or blood moon that time, I forgot, but the view was amazing but I couldn't take a good picture of it. Our eyes are the best, alhamdulillahh!
~ JEJU ~
As soon as we arrived in Jeju, our friends picked us up and we had a unique dinner in
Ghosthouse Restaurant.
We ate seafood!!! Always. But this time is like...MASSIVE kinds of seafood. Including abalone and several clams that I have never heard of. It's kinda expensive but I don't pay so good news hehehehhee. ANYWAY I actually am allergic to seafoods especially shrimp... but I love it so much much much!! I even ordered Shrimp burgers whenever I go to Mom's Touch or Lotteria because.. I love it. And uh, with this big portion of seafoods you know what happened!? My face and lips swelled and felt itchy :( but it was worth it tho!!
massive!!! it's around 120,000 KRW for 6 people.
we finished it all!
We stayed in our friends' guesthouse in Gosan something, and it was sooo beautiful, I mean the interior and etc! We ate home-made cooking in the morning because our friends used to work and live in Indonesia so they kinda miss Indonesian foods.
On the next day, we tried a kayak or canoe and I got wet all over my body!! T_T my poor skill. Then we also visited
Innisfree Jeju House
and tried
Osulloc
green tea ice cream, uh it was amazing. delicious. Then we ate pizza, they always brought us to famous places that once visited by reality show or something because I found pictures and signed-paper of celebrities from "2 days 1 night", "infinity challenge", and "running man". But I am not really a reality show fan... I do watch but sometimes. Not crazy about it hehee.
OH! and I have a new favorite now!! IT'S AN ORANGE-PEELED PIZZA.
So it's basically a pizza with Jeju orange topping. I forgot the name!! But I love it hehe. Then we continued our journey to Seogwipo art market where you can find a lot of artworks to fulfill your thirst for aesthetics.
home-cooked meals!
seolhyun AOA!! can I have her body please
ORANGE PIZZA I LOVE IT SO MUCH HEHEEEEEE
MY LOVE
that famous pizza place
famous stray cat you can find on Instagram!
WHERE IS JAVA ISLAND???????????