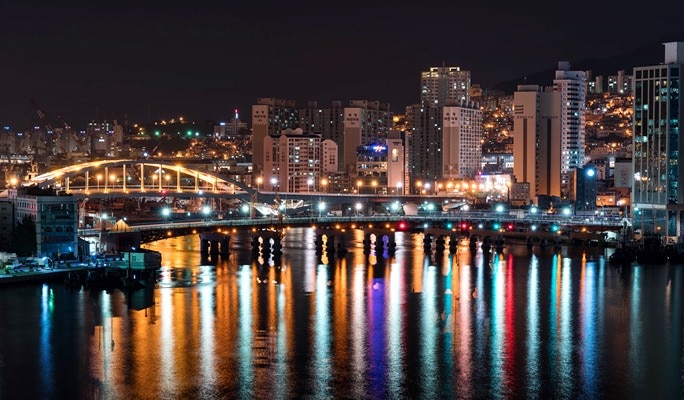 Yeongdo-daegyo, Busan, South Korea
Thursday on the beginning of October was a well-spent night under the columns of light in South Korea. The weather was cold and stinging but Autumn is still yet to come. You told me that the sailing was delayed due to this dangerous weather, I remembered how excited you were about the idea of coming back home for a few days. And that time you asked me one more time if we could meet to spend some time around before typhoon hits Busan, or before your months worth of sailing.
Winds and waves,
Shore and ocean,
Buildings and bridges,
All that above remind me of how you talked about your agony and hardship that you have been through all these years. About the pain that you bury inside your heart over and over again by trying to let it pass one more time. About your fear of future and your own definition of happiness. Three hours of conversation passed by like a warm breeze in a tranquil restaurant near the city lights. "You know what? There are two reasons that make me happy today, guess!" you exclaimed in, carving a big smile.
"Ummm. I think I know," I said, "First, because you got day-offs from sailing before you get a further announcement about the typhoon effect. Second... because you can eat raw fish today?" Moving my eyebrows as I pointed out at the plate of salmon and tuna in front of us, grabbed another salmon and dipped in the salted-oil sauce.
You told me before, it has been a long time since you ate raw fish. But suddenly you laughed hard as if you have been given all the freedom you can have in this world. "The first thing is correct," you smiled once again, letting out a sigh so freely as if all the burden on your shoulder has been swept away. "The second is because I got to talk with you about everything today. Thank you, I am very happy today."
And suddenly my heart is at ease,
at least I know how it felt like,
to be able to bring someone's smile back,
even just for a while.
Then you took me for a walk to a beautiful scene that I have never seen before, well I might have seen it but not this way. Not on this rainy day. I have never walked to the shore on a rainy day, on typhoon weather. No, not at all, not once in my life.
"I am afraid of the sea; the depth of the ocean. It's scary." I said and you laughed.
"There's nothing to be afraid of."
"Well, I can't swim!" you laughed again, now mocking me.
"I can swim." so what? It doesn't help me either way. Sea is scary. No further interruption. "I love the sound of the sea, it's relaxing. I used to go here to swim when I was a kid," you stopped and pointed afar, "Do you see the green and red lights near the lighthouse?" I nodded, "that's the navigation for ships. Look at those ships there."
You kept on pointing your finger like a 6 year-old-kid to all the objects that you can name one by one across the bridge enthusiastically, explained it passionately as if your life is revolved around them, although it's true. Your life is revolved around them.
Now I have seen the sea when it's stormy and wild; or when suddenly it's quiet and serene. I have listened to the sound of waves crashing the rocks across the lane that we walked in along the shore. I have felt the difference of the vivid lights of skyscrapers and the raging waves that were separated by the bridge. I have noticed how the green and red lights were meant to be something important to the world that you live in.
But the bottom line is that I can't see the ocean the way it used to be, for I realized that everything has turned into something meaningful and beautiful. At least not in my life, but maybe somebody else's life.

And maybe, too, this world is the only place
where I get the chance to learn about people from a wider perspective
and be less judgemental about other people's life.


***
p.s:
This is how I usually express my gratitude to my friends, by learning from their life and building new perspectives. :) Thank you for such experience!