This post will be updated every time I get new information!! :) If you find any mistakes or have some recommendations, feel free to leave a comment! Also, if you have visited one of those places and have suggestions, feel free to comment and tell us your experience ^^
1. Seoul Central Mosque, Itaewon (Exit 4)
The Seoul Central Mosque was established to be a place to worship for Muslims in Korea as well as to educate the larger public about Islam and Islamic cultures. The first floor of the mosque houses the Korea Muslim Federation office and a meeting room. On the second floor is the men's musalla (prayer hall), and on the third floor is the women's musalla (prayer hall). The mosque is open to worshippers and visitors.
Address:
04405 39 Usadan-ro 10-gil, Yongsan-gu, Seoul
How to get there?
Take a subway to Itaewon station (subway line 6, the brown line), go to Exit 3, go straight until you reach an intersection and kebab and Turkish ice cream shop, turn right and keep walking until you see Foreign Food Mart, keep walking until you see another intersection, then turn left and walk across the street... keep walking until you see Makan Halal Restaurant or a Turkish bakery store. You'll see the mosque sign or kindly ask people around you.
2. COEX Mall, Gangnam (3rd Floor near hall E)
Coex is the first convention center in Korea to open dedicated facilities for its Muslim guests. To accommodate daily prayer schedules, the room is open from 3 am to 10 pm. Other tools for prayer, including a Qibla, clocks, Qu'rans, and carpets, are also provided for the convenience of our guests.
Address:
COEX Mall. 513 Yeongdong-daero, Gangnam-gu, Seoul 06164 Republic of Korea (third floor)
How to get there?
Go to COEX mall by subway (Bongeunsa Station, brown line or Samseong Station, green line). The Prayer Room can be found on the third floor of Coex and features separate rooms for men and women. It's a little bit tricky but you just need to find a way to the Hall and Conference room on the third floor. You can take the wudhu/ablution in the restrooms nearby.
For more information:
3. Al-Falah Masjid, Yeongdeungpo Station Exit 4 (3rd floor)
Sorry, I don't have the picture without people because that's where I usually teach children ehe. Anyway, it's an Indonesian mosque located behind Yeongdeungpo Station (a few stations away from KBRI-Kedutaan Besar Republik Indonesia or Indonesian Embassy).
Address:
Yeongdeungpobon-dong, Yeongdeungpo-gu, Seoul
How to get there?
Go to Yeongdeungpo Station (subway line 1, blue line), from exit 4 go straight until you see an intersection, turn left and go straight. By the time you go out from exit 4, you can actually see the blue sign for Masjid Al Falah on top of the building, the prayer room is on the 3rd floor.
For more information:
4. Incheon International Airport
Actually, Incheon International Airport is not in Seoul. But since most people will go here... why not?
Address:
272 Gonghang-ro, Unseo-dong
How to get there?
1. Terminal 1, 3rd Floor, next to gate 24 duty free (Once you reach the snoopy cafe, walk around it as the entrance is behind and not along the main route.)
2. East Wing on the 4th floor of Departures.
3. Terminal 2, Floor B1 (public area), on the East Wing near the One Family Resting Area
3. Terminal 2, 4th floor (departure hall) in the middle of the duty free area, near baskin robbins
5. Lotte World Tower - Department Store (Jamsil Avenue 6th Floor)
Address:
300 Olympic-ro, Jamsil 6(yuk)-dong, Songpa-gu, Seoul
How to get there?
Go to Jamsil subway station (line no 2), go to the 6th floor, across the Agra
For more information:
-
https://www.lwt.co.kr/en/event/event/detail.do?evt_no=225860&subsid_no=&pageIndex=1&searchWord=&listType=List
-
https://www.lwt.co.kr/en/department/comfort/list.do
6. Lotte World Adventure Park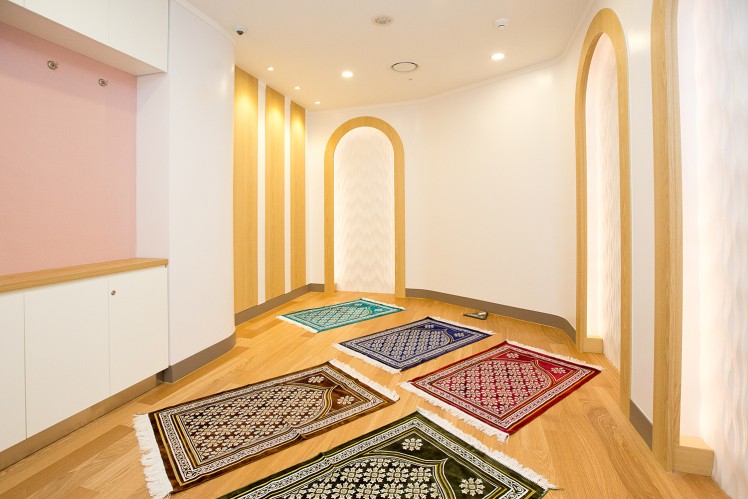 iamtravelist.com
If you wish to use the prayer room, please call the staff by pressing the bell 2-3 times at the prayer room entrance.
Address:
240 Olympic-ro Songpa-Gu, Seoul, Korea HotelLotte Lotteworld
How to get there?
Adventure 1F near the Folk Museum Elevator, next to the Jungle Adventure Boat ride exits
For more information:
http://adventure.lotteworld.com/eng/usage-guide/service/convenient-facilities/information/contentsid/480/index.do#cBody
7. Yongsan Station Exit 3 (near mobile phone markets)
How to get there?
I've never been there but you can follow the instruction in the Youtube video.
8. Korean Tourism Organization KTO, Myeongdong (2nd Floor)
There is a prayer room located in the KTO Headquarters in Seoul and right across the most prominent attraction in the area - the Cheonggyecheon stream. You will conveniently find the entrance to O'sulloc Tea House. This spacious prayer space also has ablution facilities for Muslim travellers. The prayer rooms are easily accessible but might remain closed during national holidays or on certain weekends. Don't forget to sign up for a walking tour of Cheonggyecheon stream and explore it's beautiful bridge as well the artwork when you are in the area.
Address:
40, Cheonggyecheon-ro, Jung-gu, Seoul 100-180, Korea
How to get there?
Take the subway Jonggak Exit 5 (dark blue line) and go to Myeongdong area, walk for around 3 minutes and walk across the street. Turn left after you see Cheonggyecheon Stream, walk until the second building. Or if you're already in Myeongdong, walk around 10 minutes from Lotte Young Plaza Myeongdong. Other way is to take subway line 5 to Gwanghwamun exit 5, walk for around 7 minutes. Walk straightly and turn left, find KTO Seoul Office. The prayer room is on the 2nd floor.
For more information:
english.visitkorea.or.kr
Sources:
Self-experience.
Links already attached above.
Other blogs and published posts.